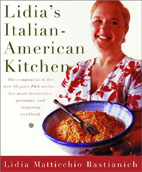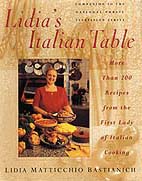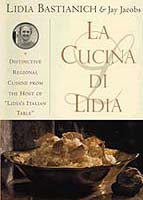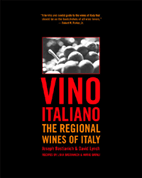 Lidia's latest cookbook, a companion to her 52 part public television series, hit bookshelves on October 23rd, 2001. Her most personal and instructive cookbook to date, Lidia's Italian-American Kitchen, (Knopf) focuses on Lidia's own experience in America, and her connection to Italian-American cuisine. It is the story of how Italian-American cooking is a cuisine born of adaptation and necessity, created by new immigrants who tried to recreate the flavors of their homeland using whatever American ingredients they had access to. It's also a cuisine that has become a beloved part of American culture. Laced with stories about her experiences in America and her discoveries as a cook, this enchanting book is both a pleasure to read and a joy to cook from. The book is currently available on our shopping cart as part of a gift basket or sold alone.








(William Morrow, 1998; $ 28.00/hardcover) is the companion book to the 39-part Public Television series of the same title. Lidia's Italian Table invites you on a journey with Lidia from her childhood to witness how it developed her love for food and desire to share it. The book contains an abundance of recipes and cooking tips, as well as remembrances from her childhood in the Istrian town of Pula on the Adriatic Sea. Lidia recalls trips to the market, harvesting olives for olive oil, collecting mussels and clams at the seashore and sleeping under the stars on a mattress filled with dry cornhusks on summer nights.








(Doubleday, 1990; $ 36.50 hardcover) details the story of Lidia's family and her background. The recipes reflect Lidia's culinary heritage and regional cuisine of Northern Italy, especially Friuli Venezia Giulia. They include recipes for risotto with porcini mushrooms, sauerkraut with pork and palacinke, thin sweet crepes. Lidia also discusses wines and spirits of Italy and offers wine suggestions for many dishes.








(Clarkson-Potter, 2002; $ 35.00 hardcover) Vino Italiano is for anyone who loves Italian wine and wants to learn more about it. A region-by-region analysis of Italy's diverse wine culture is complemented by recipes by Lidia Bastianich and Mario Batali, travel tips, guided wine tastings, and abuying guide featuring more than 700 wineries. The most thorough and timely Italian wine guide on the market. Books are signed by both authors.



---
home | about lidia | tv show | books | restaurants | food products | shopping
travel | recipes | what's new | where's lidia | special events | contact us

copyright © 2000 Felidia Inc.
designed by winters ripp design