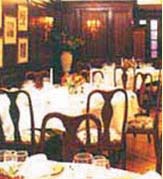 Lidia's special wine and
gastronomic tours to Italy




The private party room at Felidia hosts numerous food and wine events throughout the year including cookbook author dinners, wine pairing dinners, truffle parties and more. Wine Director David Weitzenhoffer and Executive Chef Fortunato Nicotra are featuring some sumptuous wine dinners at Felidia this fall as specified below. Prices are all inclusive.

Sunday, October 3: Tuscany's Vintage of the Century – '97 Brunello dI Montalcino ($365.00 per person)
Monday, October 4: The Wines of Sicily ($175.00 per person)
Wednesday, October 20: Campania and Abruzzo ($175.00 per person)
Wednesday, November 3: Piedmont ($175.00 per person)
Sunday, November 21: Barolo and Barbaresco (Price to be determined)

To reserve your space for the upcoming events, go to our Wine Dinner Reservation Form or contact Laura Supper at laura@lidiasitaly.com. If you would like to hear more about the upcoming events, please register now for more information.


---
home | about lidia | tv show | books | restaurants | food products | shopping
travel | recipes | what's new | where's lidia | special events | contact us

copyright © 2000 Felidia Inc.
designed by winters ripp design