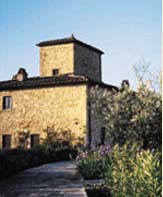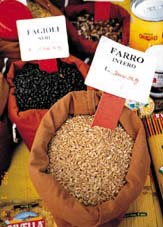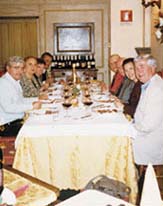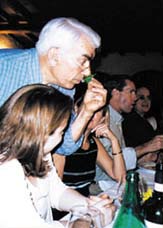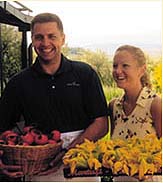 Custom Designed Tours and Activities for 2003
We are delighted to start offering custom designed tours and activities for all sizes and needs. We will arrange anything you and your traveling companions desire--luxury accommodations, villa rentals, transportation, cultural tours, and most of all unparalleled food and wine experiences throughout all the regions of Italy. We will assist you with entire land packages or just a few activities, depending on your individual needs.

You will find some of our sample activities for the most popularly requested regions enclosed. Some of these activities can be sold individually or combined with other day trips and/or regions. Formal proposals can be made upon request. Whether you are heading to Italy for a day or several weeks, let us know how we can help you enhance your trip. For information, call 800-480-2426 or email us at shelly@lidiasitaly.com.

Lidia's Esperienze Italiane Travel 243 E. 58th Street, New York, NY 10022 800-480-2426 or 212-758-1488 www.lidiasitaly.com

RENAISSANCE FLORENCE:

Activity 1: Magnificence: Michelangelo and the Medici. Join one of Harvard University's art and architectural historians for an intimate look at Michelangelo's masterpieces inside the Church of San Lorenzo. You will learn about the famous Medici chapel with the tomb sculptures of Day and Night, Michelangelo's exquisite Laurentian Library and his relationship with the Medici family as patrons. You will then head to a hidden crypt underneath the Medici chapel to see some controversial drawings, discovered approximately 20 years ago. The last stop will be to see Michelangelo's famous statue of David in the Accademia Museum.
Activity 2: Market Tour and Tuscan Wine Tasting. Burton Anderson has been living in Tuscany for over 30 years and has written several books on wine and food including Treasures of the Italian Table and The Wine Atlas of Italy. Burton will lead you through a tour of the San Lorenzo market followed by a Tuscan wine tasting at a local enoteca. You will taste Tuscany's best-Chianti Classicos, Brunellos and the famous Super Tuscans. Tuscan cheeses will be served at the tasting.
Activity 3: Pietra Dura: One of Florence's Oldest Crafts. Florence is full of shops that sell the pietra dura frames, wall hangings, tables and other accessories. It is an intricate mosaic work made of hard, precious stones such as lapis lazuli and mother of pearl. The craft was begun under the reign of the Medici family in the 16th century and still continues today as one of the city's most expensive crafts. You will join a Florentine craftsman for a demonstration of this wonderful mosaic work and have the chance to help with the design!
Activity 4: Shopping in Florence: Florentine Specialties. Our private shopper has been living in Florence for much of her life and is considered a "shopping expert." After sharing your interests with her, be ready for an insider's tour of the best of Florentine leather, jewelry, paper, clothing, lace and more. You will have a full morning of the expert's advice and guidance as you hit the streets for a half day of private shopping.





FOOD AND WINE IN TUSCANY:

Activity 1: Cooking at the Castello di Volpaia Estate. You will depart to see one of the oldest Tuscan artisan trades, the creation of terracotta, where each hand-painted piece is an original. Later this morning you will work for your lunch at the Castello di Volpaia, a medieval hamlet owned entirely by the Stianti family, where you will learn how to cook Tuscan style. Giovanna Stianti, the owner of the estate, is very able in the kitchen and at producing wine and will be leading the class. Lunch will be served paired with the outstanding award winning wines of Castello di Volpaia.
Activity 2: Hiking in the Hills of Tuscany. There is no better way to enjoy the Tuscan sun than by hiking in the hills during the morning hours and noticing the beautiful colors and light of the countryside. Join our professional hikers for a morning trek along the hills. It will be a wonderful way to stay in shape during your stay in Tuscany especially since a special lunch with paired wines follows.
Activity 3: Brunello! This morning you will head south to Montalcino where we have set up an appointment with the producers of the famous Biondi Santi estate-the first to make this well-known Tuscan varietal. Following a tour and tasting, you will head to Il Greppo for a multi course lunch paired with wines from the region. We suggest stopping at the beautiful abbey of Sant'Antimo on your way back.
Activity 3: Siena. This morning Siena, the financial capital of medieval Italy, awaits us. We will visit the Palazzo Pubblico, outside of which the Sienese perform the traditional Palio horserace, and inside of which the Madonna reigns supreme. We will learn about the famous Guidoriccio fresco and its controversial attribution to Simone Martini, the Lorenzetti Good and Bad Government frescoes, and Simone Martini's Maesta'. Our visit will continue to the religious center of Siena, the Cathedral complex, where we will have the opportunity to view one of the most stunningly beautiful masterpieces of the Renaissance, the Piccolomini Library. Following our pilgrimage to the sites of Siena, we will relax in the company of Burton Anderson, author of Treasures of the Italian Table and The Wine Atlas of Italy, as he leads us through a tasting of Tuscany's best accompanied by local cheeses and salami at the Enoteca I Terzi.





ROME:

Activity 1: Caravaggio's Rome. Caravaggio was one of the most controversial painters of his time, but his paintings are by far the most famous from the Baroque period. Your art historian will take you first to the church of San Luigi dei Francesci to see the chapel that contains his famous Calling of St. Peter-a masterpiece of light and drama. Following you will head to the church of Sant'Agostino to see a small jewel-his Madonna of Loreto. Finally you will head to the newly renovated Borghese Gallery-by far one of Rome's favorites to see several more works by this Baroque artist.
Activity 2: Cooking with Paola di Mauro. This morning you will head just outside of Rome for a visit with wine producer and noted cook, Paola di Mauro. Paola is a passionate Roman who is known world wide for her delicious home cooking and boutique wine selection. She will invite you into her cozy home which is surrounded by giant rosemary bushes and grapevines and then into her kitchen for a class on some of her favorite Roman specialties followed by lunch and wines produced at her estate.
Activity 3: A Private Viewing of the Sistine Chapel. The Vatican Museum can be rented upon request, and we arrange special visits with an art historian to highlight the most famous works contained within. One of the first stops is inside the Raphael rooms where your art historian will discuss the style and iconography behind famous frescoes such as the School of Athens. Then you will head to the Sistine Chapel where the focus is Michelangelo, Pope Julius II (the patron) and the complex iconography and restoration of Italy's most famous frescoed space.





TRUFFLES IN PIEDMONT

Activity 1: Truffle Hunting. The fall is the best time to visit the wonderful region of Piedmont, when the white truffles are in season. We will schedule a truffle hunt for you with one of the local "trifolau" in the very early morning. You will then have time to rest before we gather again in the late morning for a cooking demonstration of local Piedmontese dishes (with truffles of course!)
Activity 2: Barolos! Barolos reign supreme in the region of Piedmont, and we will arrange a Barolo day for you to celebrate this king of Italian wines. You will start by visiting a boutique producer for a tour and tasting. Then you will have lunch in a local trattoria paired with a selection of Barolos from the phenomenal vintages of 1990 and 1997. This afternoon, we will arrange a visit to a local enoteca for a comparison of Barolos and Barbarescos.





EMILIA ROMAGNA

Activity 1: The Specialties of Parma. You will start your morning very early with a visit to the Parmigiano Reggiano cheese factory to see how this famous product is made. Following you will depart for the town of Langhiranno, just outside of Parma, to visit the Galloni family, leading producers of Prosciutto di Parma. Your lunch at the family's home will be based on these two famous products of the region.
Activity 2: Balsamic Vinegar. This morning you will have a wonderful experience visiting the Maletti family, who will share with you their secrets to producing the traditional balsamic vinegar. Following your tasting and visit, we will arrange a "piedina" tasting for lunch-one of the region's specialties.
Activity 3: The Fresh Pastas of Emilia Romagna. This morning we will head to Bologna to visit with some very special sisters who have been producing fresh pasta for years. After a pasta-making demonstration and tasting of some of their finest dishes, we will head to one of the town's famous meat shops to taste the other specialties of this region-salami, prosciutto di Parma and coppa.





VENICE AND THE VENETO:

Activity 1: Vicenza: Palladio and the Wines of Maculan. In the morning you will head for Vicenza, only a few miles away from Verona to visit the Olympic Theatre by Palladio, the genius behind 16th century theater production and design. You will then head to the Villa Rotunda where you will meet with Count Valamarena to share an aperitif and a very special view of the countryside. Immediately outside the town of Vicenza is the wine estate of Fausto Maculan. Fausto has arranged a stroll through the vineyards, and his chef will prepare a local meal for you right in his cellar to be paired with his wines.
Activity 2: Venetian Cooking in a Venetian Palace. Today, you will have a truly gastronomic day in Venice. In the morning Fulvia Sesani, maestro gourmet, will take us to the Rialto Market where luscious fruit and vegetables grown on the islands of the lagoon are sold. Fulvia will then conduct a cooking demonstration followed by a meal in the oval dining room of her Venetian palace.





UMBRIA

Activity 1: Our morning begins by a pleasant stroll through the town of Perugia to experience some of the local pastry delicacies. We will then have an art tour of Perugia including one of the most important Romanesque fountains in Europe and the brilliant Perugino frescoes in the Collegio del Cambio. We will depart Perugia, heading for Montefalco to experience a delicious country Umbrian lunch at Coccorone. After lunch, the tiny jewel town of Spello awaits us, where we will visit the Baglioni Chapel which houses frescoes not often viewed and certainly worth not missing. Deruta, the most important center for Italian ceramics will be our next stop for some shopping fun.
Activity 2: Burton Anderson, leading wine expert, will meet us this morning, spending the day in Umbria wine country. We will visit the Caprai estate which produces some of the best Sagrantino. We will also get a chance to experience a local festa. Lunch at the Villa Roncalli in Foligno will be a combination of all things fresh from the family's garden and Burton's choice of the best wines to compliment the menu. After lunch, the Palazzo Trinci awaits us, where the frescoes of Roman kings, mythological gods, virtues, vices, liberal arts and the sciences create some of the most unusual fresco decoration on the Italian peninsula.





CONTACT US:
For formal proposals, contact Shelly Burgess Nicotra travel@lidiasitaly.com or 800-480-2426.

Shelly Burgess Nicotra
Esperienze Italiane
243 E. 58th Street
New York, NY 10022
800-480-2426; 212-758-1488
www.lidiasitaly.com


---
home | about lidia | tv show | books | restaurants | food products | shopping
travel | recipes | what's new | where's lidia | special events | contact us

copyright © 2000 Felidia Inc.
designed by winters ripp design